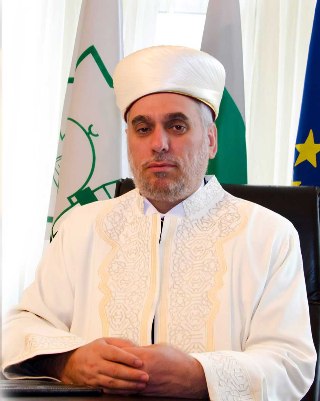 DR. MUSTAFA HADZHI
Grand Mufti
He was born on 31 March 1962 in the village of Draginovo, Municipality of Velingrad, Pazardzhik region. He completed his primary education in his home village after which he continued studying in the Forestry Technical School in Velingrad. In 1982 he entered the military barrack and after completing it he began working in his native region. He was working two years at "Belmeken – Sestrimo" cascade and after that at the "Vasil Sotirov" factory in Velingrad as a wood drying specialist.
During his school years he secretly took private lessons in religion with the hodja (Islamic teacher) in the village, and then in Velingrad and in other settlements. In the beginning of 1990 he became imam in his native village and practiced this work for two years. After that he was appointed as a Deputy Grand Mufti at Grand Mufti's Office, Sofia. In 1993 he went to Jordan where he studied in the Faculty of Theology at the "Yarmouk" University. In 1997 he graduated and returned to Bulgaria.
On 23 October 1997 at the uniting Muslim conference he was elected as a Grand Mufti. In 2000 his mandate as a Grand Mufti ended after which he was elected as a Chairman of the Supreme Muslim Council (SMC).
During his three-year mandate he graduated in parallel Master Degree in Comparative Religious Studies in NBU, Sofia and in 2002 he undertook doctoral studies in the "Marmara" University, Istanbul, and in defended his doctoral thesis in 2008. In 2003 his mandate in the SMC ended after which he was appointed as a Rector of the Higher Islamic Institute. In 2005 was held an extraordinary national conference where he was again elected as a Grand Mufti.